MOBILE OUTFITTING RIG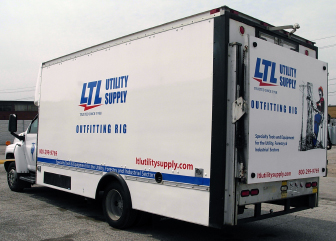 We've put our store on wheels to bring you LTL Utility Supply's Mobile Outfitting Rig. Our mobile tool truck is stocked with hundreds of hand-picked specialty tools and equipment for the utility, forestry, and industrial sectors.
- Hand tools - cutters, crimpers, strippers, insulating tools
- Manual and battery-operated tools
- Belts and lanyards
- PPE - Arc Flash clothing, FR daily wear, traffic wear, hard hats, boots
- Electrical rubber gloves and accessories, leather work gloves
- Live line tools
- Gas detection equipment
- Bags, pouches, aprons
- Safety glasses
- Novelty items — Michael Garman sculptures, sweatshirts, knives, caps
- And much more!
LTL UTILITY SUPPLY MOBILE OUTFITTING RIG TOUR
Our mobile tool truck is travelling across Canada to a city near you. If you'd like to ensure we visit your city, please send an e-mail to main@ltl.ca.